by Robert Farmer
Upper Arlington, OH
"Dear America's Home Page —
"I used all of the campaign button designs from your website and made an animated gif. I hope you don't mind. Actually, I hope you like it! Take it if you do, and use it as much as you can!
Thank you, and you have MY vote in '96!"

A Child's Poem
Armand Bayou Elementary
Houston, TX
If I Were President
by Devin
If I were in charge of the U.S.A., I'd make America better day by day. Legislative, judicial, and executive all three, The branches of government would make us free.
The only war would be one on drugs, I'd do away with gangs and rehabilitate thugs. My main platform would be education, if I were President of this great and mighty Nation.


"Shocked in Oberlin"
by Jeffrey Brick
Pittsburgh, PA
http://www.pitt.edu/~jabst41/c.html
"My name is Jeffrey Brick and I am a 23 year old student at Oberlin College in Ohio, but currently taking classes at the University of Pittsburgh.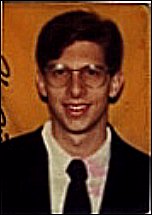 I am a Political Science Major with an interest in the Internet and new multimedia. To help get the right kind of positive political messages that are needed on the net, I created a short Shockwave movie that you can see here, showing why Bill Clinton should be elected once again!
"Bill Clinton, in his four years as President, has shown that government can help to make us efficient workers, students, teachers and volunteers. He has fought hard against cuts in education spending, worked to start a youth volunteer program, raised the minimum wage for all American workers, and proposed a tax credit for those seeking further education. Clinton has a view of the future in which education, hand in hand with technology and volunteering, will lead us with great hope into the twenty-first century."

Pip the Pundit
Shockwave Animation
by Bryan Lewellen
Nashville, TN
http://www.nashville.net/~bryrock/
"I'm a Multimedia Developer living and working in Nashville. I'm married with no children - just Pip! Pip almost visited the White House when she was 3 weeks old. We had stopped in Washington on our way home from Pennsylvania, where we had bought Pip from the farm near where our car had broken down on the way to a wedding (see, there's a reason for everything). As we walked by the White House we were invited by the Park Police to come in for the tour. We figured they must have seen that my wife was holding a small puppy and that it must have been okay. We went through the gate security - no questions asked - only to be stopped by the Secret Service just steps away from the White House entrance. They were concerned about possible conflicts with K9 units and Socks, the cat. We were kindly escorted out.
"As to why I'm plugging for President Clinton on my web site, all I can say is that if I could put an interactive bumper sticker on my car, I would, but I figured it might work better on a web site."