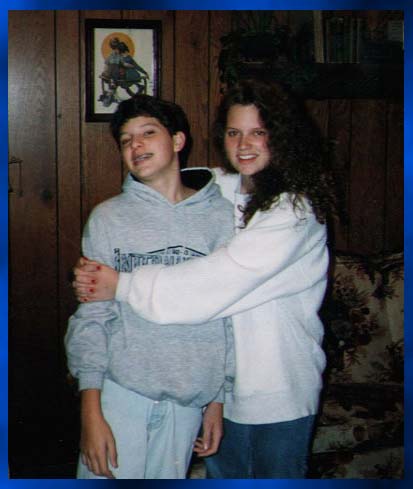 Students For Clinton/Gore '96
Nicole Ciacchella and her brother Michael
East Lansing, MI
Michigan State University
http://pilot.msu.edu/user/ciacchel
"As a 19-year-old college student and registered voter, this will be my first election. Because I am a registered voter, it is important to me to vote. Because I am a college student, it is important to me to vote for Bill Clinton and Al Gore.
"My hard-working, devoted parents are stretched thin trying to finance my college education. In two more years, my younger brother will be in college and then my parents will have two tuition bills. Bill Clinton's plan for a college tax credit is a life saver for families like mine, who value a good education and who must pinch pennies in order to pay for one."


A College Education
by Debra Raynor

Chowan College
Murfreesboro, NC
"My name is Debra Marie Raynor. I am a 19-year old college sophomore from Littleton, North Carolina.
"Currently I attend Chowan College in Murfreesboro, North Carolina and my major is Elementary Education with a minor in Psychology. After I receive my Bachelors, I hope to go to graduate school to get a Masters Degree.
"I want President Clinton to be reelected because he has proposed to save Federal Financial Aid to Students. With a mom that has been remarried and a stepfather that does not support me ( he has two of his own to support, one of which is currently attending college), it is hard for my family to pay for my education. Without the help I get from the Federal Government, I would not be going to college. Everyone in the country knows how important it is to have a college education now.
"It is not fair for a person to be denied a chance to go to school because their family cannot afford rising tuitions."

Teaching for the Future
by James Parker
Southern Conneticut State University
Beacon Falls, CT
"I just wanted to express how much I care about the Clinton / Gore re-election campaign. I am a 20-year- old college junior at Southern Connecticut State University, and will be voting in my first presidential election. At SCSU I am a special education major, and I also have goals to teach at the elementary level. As a future educator I have great interest in making sure public education is well funded and safe from federal budget cuts. And as a student I care about college loans — this and the fact I am in great favor of saving & protecting the environment make me a very big Clinton supporter.
"Mr. Clinton and Mr. Gore, I completely support your campaign. I continue to get my fellow college friends to vote this year and vote DEMOCRAT!!!
Good Luck Clinton/Gore 96 — We're going all the way!!"
Victory in Wisconsin: Bubba Blume
http://www.uwosh.edu/organizations/college_democrats/home.htm

"My name is M. Bubba Blume, even my mom calls me Bubba so it's cool. I am a Sophmore at the University of Wisconsin--Oshkosh. And I am the College Democrats Chair here at UWO.

"About 5 1/2 years ago I was no where close to being where I am today. I wasn't worried about the up coming elections, and had never heard of Bill Clinton. I was worried about where I would get my next meal. I was worried about where I would sleep at night. I was one of the faceless, nameless, homeless population in our nation. I am a veteran and had no idea, like most of us out there, that this could happen to me. I spent days going through garbage cans and dumpsters looking for something to eat. I spent my nights barely asleep most times.

"After about 6 months of lying to myself and my mom about where I was I decided to go home. After a long time I was able to hold my head up again. And after a nearly successful suicide attempt I got some REAL help. And thanks to my family who supported me and believed in me I am still here today.

"Now, you may be wondering where the President fits into all of this. Plain and simple:he believed in me too. I couldn't have made it into college without financial aid. And I couldn't have made it through my first year without the help of the TRIO programs. I was one of the millions of voices that decried the cuts to financial aid the GOP wanted to make in '94. I worked hard to stop them and was filled with pride when the President said he'd veto any cuts to financial aid. And we won.

"Now, I am a sophmore here, in my 3rd year. It may take me a little longer to graduate. But because my President, and more importantly my family, believes in me I know I will get through. Like my President said — He'll provide the opportunity and I've accepted the responsibility. I owe him much more than that, but it's a start."