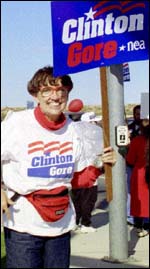 Clinton, Yes!
by Tarja Black
http://www.av.qnet.com/~yes
My web site lists many of President Clinton's accomplishments while refuting Republican economic predictions and the Dole election bid in general. I launched the site in order to counter negative remarks about the President found on the Internet.
I live in Los Angeles, and I'm 60 years old. I changed my on-line name to Tarja (from Ethel) so that younger web users would be attracted to the site as well. Here's a quote from the What We're About section of my site: "[The President] undoubtably knows he'd get more political payoff by helping bankers instead of students or by lowering the taxes of late-night comics instead of the taxes of low-income workers. But as a man of character, he does the right thing anyway."


In the Presence of Power
by Marty Gallanter
http://jwp.bc.ca/martyg/
mg3power.htm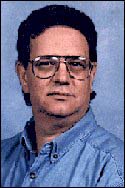 My name is Marty Gallanter. I'm an ex-New Yorker living in rural Minnesota. One day, I went to hear the President and Vice President speak at the National Rural Conference at the Univeristy of Iowa. Once there, I found that the two men I had only experienced through TV screens and newspaper articles became real, living people that cared deeply about rural America. I wrote up an editorial which is posted on my web site, and also want to share his story with Clinton/Gore supporters.
Here's an excerpt: "I expected the President to open the conference and leave. He didn't. He chaired it personally for over five hours and when his voice began to fade, the Vice-President took over. The huge briefing books set down by the aides for the President and Vice-President were never opened. Both men carried on extensive and complex discussions supported entirely by the knowledge they carried in their heads."



Major Speeches of the President
by Jane Prettyman
http://www.rain.org/~openmind/
together.htm
I've created a web site with five major speeches of the President including photographs and quotes. I chose the speeches because they embody American values the President stands for: tolerance, free speech, religious freedom, civil rights and national community. President Clinton will be remembered for his values and I'm helping keep his words in the public domain through my site.

"These speeches are powerful and clear and educationally important for the re-election effort"

Here's a quote from one of my favorite speeches: "If you want to preserve your own freedom, you must stand up for the freedom of others with whom you disagree. You cannot have one without the other."
—President Clinton, Michigan State University speech after Oklahoma bombing, March 1995