First Lady Fans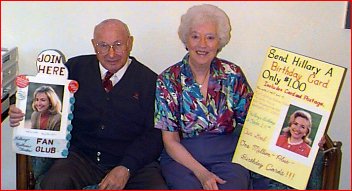 Ruth and Gene Love
Silver Spring, MD
http://www.voyager.net/hillaryfans/
Gene and Ruth Love started the first-ever Hillary Rodham Clinton Fan Club after learning about Mrs. Clinton in the press. "Seven weeks before the election in 1992 the media had so much about Mrs. Clinton. There was a lot written about her in the newspapers and we liked what we read. We thought she was a special person. Wouldn't it be great to let this lady know that there are people out there who support and admire her?"
She and her husband, Gene, called the Little Rock campaign office and local Democratic party offices for permission to start a fan club. Now, four years later, the Loves preside over an organization with 22,000 all-volunteer members and 165 chapters, eight of which are abroad.
"It's become international. Our chapter in India started out with 100 members almost immediately," remarked Ruth.
The couple showed off pictures of the doll and other photos of the conference from their "Hillary Room" in their apartment. "When we came up with this little tiny idea of a fan club. We had no idea it would turn into this."
Now the Loves' phone rings constantly with potential members seeking information.
"This is really more than a full time job for us. I think after this we're going to retire for the second time," she and Gene joked.

Four Year View
by Elizabeth Carey
Cincinnati, OH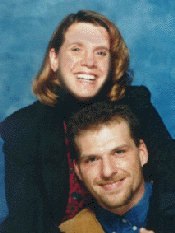 "This election year, I've spent a lot of time asking myself a famous question. "Are you better off now than you were four years ago?"Am I? Are my husband and myself happier now during the Clinton presidency than we were during the Reagan/Bush years? The answer has to be an over-whelming yes.
"In 1991, both my husband and myself were working in low-paying blue collar jobs; I worked at a copy shop and he worked as a security guard. Together we made just a little over $21,000 a year. We had no health insurance, we had no life insurance, we had two cars that we feared would fall apart every time we got into them, we lived in an apartment in one of the worst sections of Cincinnati, we fell behind in our payments to everyone and found ourselves thousands of dollars in debt. Everyday we worried about "what happens if I lose my job?"
"This year, due to an increased combined income of nearly $40,000, my husband and I moved into a two bedroom, two bathroom house with decks overlooking the city, fireplaces and a jacuzzi. President Clinton's investment in the internet has provided me with a creative technical outlet for my skills. Because of President Clinton's investment in education, my husband has just completed his third year of college, working toward his Bachelor's Degree in Horticulture. President Clinton's tax incentive for college students, will allow me to return to school in the winter to get my Master's in English, with my goal being returning to the teaching career I couldn't afford to follow. We both have health insurance, we have a savings account that actually has money in it, we have a computer, two newer cars and best of all, job security.
"President Clinton's policies have made all the difference in our lives. I can't wait to see what the next four years under a Clinton/Gore Administration will bring."