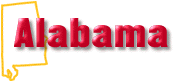 On the Horizon

As we head into the final days
of the campaign, we need your help
energizing your community to
GET OUT THE VOTE!

Call the Clinton/Gore office number
below to volunteer.

Alabama Highlights

October 24 - President Clinton in Birmingham

Montgomery resident
Carole Bilotta-Clark is profiled

Clinton-Gore '96 Headquarters
339 Dexter Avenue
Suite 210
Montgomery, AL 36104

Phone: 334-262-6887
Fax: 334-263-6165

State Director: Peggy Roberts

Political Director: Vivian Jones

Alabama Democratic Coordinated Campaign
125 South Ripley Street
Montgomery, AL 36104

Phone: 334-834-9501
Fax: 334-263-6165

Director: Carol Brown

Paid for by Clinton/Gore '96 General Election Committee, Inc.