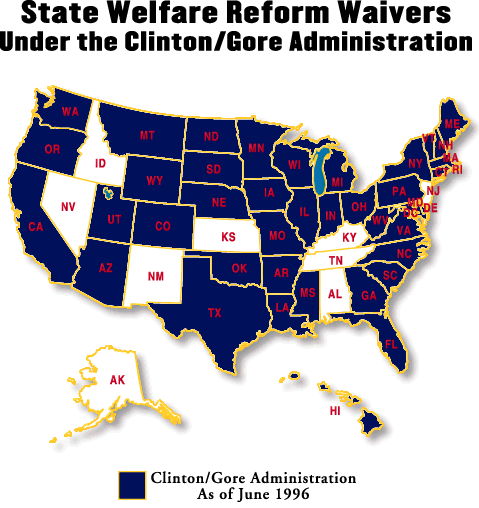 The Clinton/Gore Administration has approved 67 welfare-to-work programs in 40 states. These welfare waivers cover approximately 75% of all AFDC recipients or 10 million people each month. Overall, the number of AFDC recipients has fallen from 14.1 million in 12.1 million over the last three years.
---
Committed to Moving People from Welfare to Work
his is not the end of welfare reform, this is the beginning. And we have to all assume responsibility. Now that we are saying with this bill we expect work, we have to make sure the people have a chance to go to work."

—President Bill Clinton
President Clinton has taken an historic step to end welfare as we know it.   For four years, he has done everything in his power to reward and require work, demand responsibility, and help families move from welfare to independence.

The new welfare law is based on key principles President Clinton has consistently fought for and supported — time limits and work requirements; tough child support enforcement; child care and health care to help people move from welfare to work; and a requirement that minor mothers stay in school and live at home in order to receive assistance.

President Clinton is promoting work over welfare and is reinforcing basic American values of family, work, and responsibility by:

Granting waivers to 43 states — more than all his predecessors combined — to give them the flexibility to reform their own welfare systems. These reforms are already making work and responsibility a way of life for over 10 million people — about 75 percent of all welfare recipients. Since January 1993, welfare rolls are down by 1.8 million people, a decrease of 13 percent.

Ensuring that work pays: by expanding the Earned Income Tax Credit (EITC) to provide tax relief to 15 million working families and by raising the Minimum Wage for 10 million workers, so that work is a better deal than welfare.

Fighting to make welfare reform pro-child, pro-family, and pro-work. The new welfare reform bill:

Protects the federal guarantee to Medicaid for millions of pregnant women, people with disabilities, poor children, and people working their way off welfare.

Provides $14 billion in child-care funding — a $4 billion increase — and restores child-care safety standards.

Safeguards nutritional guarantees for children by keeping the Food Stamp program intact and by protecting the school lunch program.

Imposes the toughest ever child support enforcement by garnishing wages, suspending driversí licenses, and tracking deadbeats across state lines.

Protects child welfare, foster care, child abuse prevention services, and programs for disabled children.

Provides performance incentives to encourage states to place welfare recipients in jobs.

Doubles the contingency fund from $1 to $2 billion to protect needy families against economic downturns.
Building on Our Progress
President Clinton will continue to reward work over welfare and support basic American values. He is committed to working with Congress to change elements of the new welfare law that go too far in cutting benefits for legal immigrants and nutritional assistance for working families. President Clinton will enlist the private sector in a national effort to help move people from welfare to work by:

Proposing a Welfare-to-Work Jobs Challenge to help move one million of the hardest-to-employ welfare recipients to work over the next four years. This $3.4 billion initiative is fully paid for by cutting corporate subsidies. It includes:

Welfare-to-Work Tax Credit, enabling employers to claim a 50 percent credit on the first $10,000 of annual wages for long-term welfare recipients. This builds on the Work Opportunity Tax Credit (WOTC) signed into law by President Clinton on August 20, 1996.

Tax Incentives to Increase Investment in Distressed Areas, expanding on the Presidentís comprehensive strategy to build investment through Empowerment Zones, Enterprise Communities, Brownfields Tax Incentives, and Community Development Banking and Financial Institutions. New tax incentives will encourage investment in community development institutions and venture capital funds, and expand current tax incentives for businesses that clean up abandoned, contaminated industrial properties.

Welfare-to-Work Jobs Initiative, giving communities, businesses and private sector placement firms incentives to move one million of the hardest-to-employ welfare recipients into jobs by the year 2000.
Meeting Our Challenges

Protecting Our Values

Paid for by Clinton/Gore '96 General Committee, Inc.